About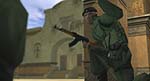 Global Operations "The Revival" is a compilation of nearly all released addons, maps and patches released for the game ranging from 2001 to 2012. Collected by the globalops.tk website over the course of 6 years

The goal of this compilation is to keep this files around for a little longer. And ease the access to these files in a one to download pack, instead of having to download each file one by one from hard to find sources.
---
Global Operations Screenshots
---
Go Go Go!
Please use the top menu buttons for content overview, install instructions and other usefull informations that made it into this readme.
Also make sure to read the manual
./misc/Global.Operations.Manual.ENG.Rogue.Element.doc


---